James Roberts
James Roberts holds a B.Sc (Hons) degree from The University of Buckingham, UK in Computer Science with Economics after first specialising in Life Sciences as an Associate Member of the Institute of Medical Laboratory Sciences, UK. His experience in Banking and Finance spans 14 years rising to the position of Regional Head of IT for Standard Chartered Bank Africa, based in Accra, Ghana, responsible for the day to day ICT Service Delivery for 6 countries in West Africa; Ghana, Nigeria,The Gambia, Sierra Leone, Cameroon and Cote d'Ivoire.
James has a special knack for identifying user skills gaps and designing appropriate training courses to fill such gaps. As a result, in 1997, his IT business Operations training pack for Managers and Supervisors was adopted as a Group Approved course for Africa and rolled out in various SCB sites in Africa including Zimbabwe, Kenya ,Ghana and Zambia.
Jamal Miknas
Jamal Miknas, a Mathematics graduate from the University of Birmingham, UK, has had eleven years of experience within the banking sector in areas of Information Technology Management; and Project Management.
He is a strong team leader and team player; adept at supporting team members to achieve personal and professional goals. He is also effective at seeing a project's 'big picture' and identifying tasks to facilitate on-time and cost-efficient completion
Prior to taking on management responsibilities, Jamal spent several years as a highly skilled and organized IT/IS hands-on support personnel; effective at multi-tasking and working under pressure to accomplish overall objectives.
As an exceptional multi-cultural collaborator; he assimilates very well in different areas of Africa, Europe, Middle East and North America.
Thomas Fleckner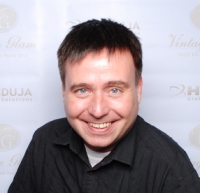 Diploma in Web design and programming
Diploma: Design, Pattern and Production Technician Specialist
He is the Founder and the man behind the technical wheel of the clickSTD project. He is the guy that ensures all those buttons work and that all the intricate platforms of clickSTD stay seamlessly connected. Thomas Fleckner has effectively built and so far maintained websites and platforms and made them to function with incredible efficiency. He helped make customers dreams and visions a reality and is the most skilled and patient IT Professional any company would wish to work with. Born in London ( UK ) in the year 1970, Thomas lived in Belgium and the Netherlands before visiting his native Germany for the first time in 1985. There he studied Design, Pattern and Production Direteur at a private college. After graduating as a professional pattern & technical designer, he embarked on website design and eventually IT and moved to The Gambia in 2002 where he resided for nearly 7 years including making experience in Senegal, Guinea Bissau and Sierra Leone. He is now overlooking projects as a whole and services for many counties in the field of web development and web based systems.
His effort is to close the gap between the man made bounderies of the so called advanced and developing countries. He is therefore equally involved in humanitarian organisatiions and projects as DWAAF e.V. and GWAED Charity where he is holding the chairmanship and the Free Humanists in Germany where he is an active member.