James Roberts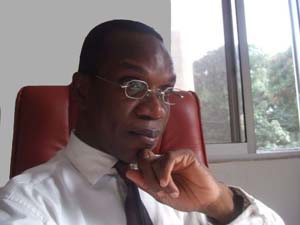 James Roberts (Managing Director/CEO) is considered one of the best in ICT Management, having served as the Regional Head of IT (West Africa) for Standard Chartered Bank Africa Region for 6 years. James managed a team in excess of 50 people across territories, namely Nigeria , Cote d'Ivoire , Sierra Leone , The Gambia, Cameroon and Ghana. He had worked in all 6 countries managing tough projects and handling difficult people issues too. James uses sharp problem analysis and good people management skills to always get satisfactory results where others have failed. He managed the IT workstrean for the Zimbabwe EMM Centralization project and was a key implementation resource in the Kenya Centralization Project (KCP) in 1996. He thus earned the respect of Business Executive Directors at Group level and became known as the Cool Implementor. .
James has developed several of his middle management staff in Accra to assume very senior IT Management positions in Africa outside Ghana as well as creating excellent Engineers for use within the group.
Jamal Miknas
Jamal, has a wealth of experience in ICT management plus a sharp appetite for business. After operating a private IT company in the early nineties, Jamal took up the Head of IT position in Standard Chartered Bank Gambia Ltd and before long, was seconded to take up the same position in Standard Chartered Botswana. Jamal is currently carrying out consulting work for BCR in Kigali. As part of the OpenConsult board, Jamal is involved in strategy formulation and is responsible for setting up international links and carrying out consulting jobs for OpenConsult Group.
Lamin Gaye

Executive Director, Strategy, HR and Group Expansion

Lamin Gaye is a Business and Banking Consultant at OpenConsult who spent the early years of his career in the civil service where he gathered considerable experience in Human Resource Management principles and practice. Having served at the middle level of the civil service Lamin is conversant with management processes and how they impact on performance and efficiency particularly in the absence of dependable laid down procedures.
Following his stint in the civil service, Lamin obtained a Post-graduate Diploma in Development Management and Master of Business Administration both from the UK.
Thereafter, he served in the private sector at Africell and Ecobank at top management level where he acquired great exposure in the use of appropriate technology to achieve corporate objectives. At the bank, he was exposed to critical operational issues, strategy and projects management particularly during his time as Head of Retail, HR and General Internal Services with oversight for branches. As a result, he is conversant with management issues, administration & procurement and critical HR issues, their application within the context of modern technology and how they impact on business.